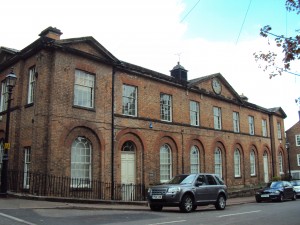 We chose three questions to help us focus on the story of the transition between the two schools:-
1. Why was St. Matthews closed?
2. What changes in the village drove the closure?
3. What was gained by Walter Evans School opening?
WHY DID ST MATTHEWS CLOSE?
To find out the answer to this question, we looked at the education committee minutes at the County Archives in Matlock and searched micro filmed copies of the Derby Evening Telegraph  (local newspaper) at Derby Local Studies Library.
We consulted with the Diocesan Education Office in Derby and talked to pupils and teachers of the old school, some of whom made the transition to the new school and a parent whose children were amongst the first at the new school.
Walter Evans school (history detectives) looked around St. Matthews House (the old school building and now home to Armsons Project Managers, Cost Consultants and Chartered Surveyors) took pictures, produced short films and a reflective book about the village, including St Matthews, as part of their National Curriculum work. Their school was open as part of the celebrations for Darley Abbey Day (8.6.13.) for viewing of their project work.
WHAT FACTORS  DROVE THE CLOSURE?
St Matthews was overcrowded.(Derby Evening Telegraph 1972).
A new housing development, Village Farm Estate, which was begun in the 1960s,  attracted many families, increasing the demand for primary school places.
St Matthews parents were worried about the impact on their children's education. (Derby Evening Telegraph 1972)
St Matthews had been earmarked for replacement since the early 1970s (Education Committee minutes 1974/5/6)
WHAT WAS GAINED FROM THE TRANSITION?
The transition brought the best of both worlds.
St Matthews had a teaching team respected and valued by the parents in the village but the building lacked modern facilities for teaching and domestic arrangements. (Derby Evening Telegraph 1972)
Walter Evans School presented pupils and staff with a new open plan building with modern facilities, very different from St Matthews traditional format.   It also had a nursery, room for outdoor play and room for expansion.