Lace is a type of openwork fabric that has spaces or wholes to form a design which is artistic and appealing to the eye. It is made by looping, plaiting or twisting threads of cotton, silk or synthetic fibres.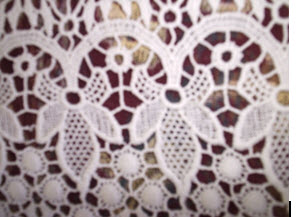 Lace was mainly used for embellishing clothing, but it was also part of making curtain fabric which was used for making tablecloths, bedspreads, and 'net curtains'. This was produced by machine and was particularly popular during Victorian and Edwardian times throughout the world. Therefore Britain was a global exporter of curtain lace.
Although Nottingham was the place where lace was both manufactured, finished and sold on, some manufacturers like Gregory's and Carey's moved some of their lace making outside Nottingham and one such place was Southwell in Nottinghamshire.
What was it like to work in the Lace Factory?
Gregory opened his factory on Burgage Green, Southwell, in 1885.  It was taken over by the Careys in 1895.  At the Burgage factory a four storey building was used to house the machinery to make curtain lace.  The machines were very large extending to over 10 yards wide, and would have considerable height on them. It was a very noisy environment to work in.

The Gender Divide
Carey's factory was split on gender lines.  The males set and operated the large machinery in the factory.  Draughting of patterns was also done mainly by males, and these were designed on the fashion of the day.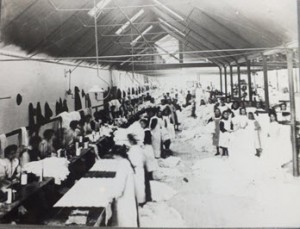 Females were involved in the lace finishing. Mistakes in the manufacturing process were rectified by the fine needlework of the women working in well-lit conditions (photograph evidence in Sheila Mason's book Nottingham Lace 1760's-1950's) at the top of the factory where skylights were installed. Because curtain lace is so wide, women needed to work on the premises rather than as outworkers as was the practice in other factories. Women would also finish edges or make scallops at the bottom of curtains. This was intensive work which required skill, but women were paid far less than men.
Although production slowed right down, Carey's managed to survive WW1.  By the end of WW2 demand for lace had fallen considerably and curtain lace was being produced in several other countries.  In 1956, lace making in Southwell ceased.